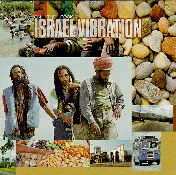 ISRAEL VIBRATION
On The Rock
(Ras)

This originally ran in Reggae Report in 1995.

"On The Rock," Israel Vibration's latest release on RAS records, once again finds this unique harmony group in top form.

The three members, Apple (Albert Craig), Wiss (Lacelle Bulgin) and Skelly (Cecil Spence) have combined their talents through the years to comprise one of Jamaica's greatest vocal trios.

Since their first RAS release, 1988's "Strength Of My Life," all subsequent studio recordings have had nine tracks, divided evenly between each individual. Wiss always sings the opener, followed by Apple, then Skelly. Except for a slight variation on their "IV" release, this format has stayed the same.

"On The Rock" follows that same order, except this time a fourth composition is added by each artist, resulting in 12 songs and almost one full hour of essential modern roots reggae.

All three men, who met during childhood in a Jamaican Rehabilitation center for Polio, are accomplished writers and vocalists. When they take turns supporting each other with their unusual harmonies the results tend to be outstanding.

That's the case here as the exceptionally well-written tunes are again backed by the incomparable Roots Radics, who even with the tragic loss of rhythm guitarist Bingy Bunny still lay down some of the tightest grooves around.

The production by the group and Doctor Dread make for an extremely smooth yet powerful recording. Each song, from the opening "Mr. Consular Man" through "Rebel For Real" and "Struggling Youth," has sincere lyrics and deserves serious attention. Even with the excellence of those tracks, a few others are worth the price of the CD alone: "Ambush," "Rudeboy Shufflin" and the title track are three of the strongest reggae tracks ever created.

Israel Vibration continues to impress and "On The Rock" is another uncompromising and exceptional disc of modern roots reggae from this critcally-acclaimed and extraordinarily special trio.






MAIN PAGE

SKANK RECORDS

FREE SKANK SAMPLER

SKANKWEAR

NEW RELEASES

CD REVIEWS

SKANK RADIO

MYSPACE

ARTICLES

POSITIVE VIBES ON KDHX

CONCERT REVIEWS

FAVORITE LINKS

GET IN TOUCH

WHO IS PROFESSOR SKANK?