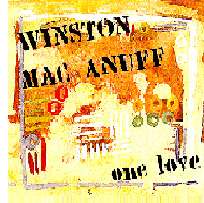 WINSTON MAC ANUFF
One Love

This originally ran in Reggae Report in 1995.

One of reggae's most obscure vocalists, as well as one of its most passionate, is undeniably Winston MacAnuff. Nicknamed "Electric Dread," this virtually unknown roots singer has a limited discography, but the little he did put on vinyl certainly rivals that of any of Jamaica's better known artists.

"One Love" contains some of the most intense reggae music ever recorded. MacAnuff's emotional vocals are captivating, and the exceptional musicianship and production help make this an outstanding recording.

The "Fatman Riddim Section" (formally known as Inner Circle) is in top form and producer Tommy Cowan coaxes a sound that's smooth, raw and powerful. In fact, the collaboration with Cowan came during his most prolific period, in the late 70's, when he was also producing Israel Vibration, Ras Michael and Jacob Miller.

The disc starts off with the unforgettable "What A Man Sow," and moves through such timeless classics as the title track, "Jah Love," "Every Man," "Praying For That Day" and "Unchained." It ends with a superb dub version of the opener.

The only problem with "One Love" is its length, as it clocks in at just over 33 minutes, disappointing when you consider many CDs offer close to an hour these days.

Regardless of its brevity, these are still some of the most crucial sounds to ever come from Jamaica, and although it would have been nice to have had some extra tracks, this release still qualifies as essential.






MAIN PAGE

SKANK RECORDS

FREE SKANK SAMPLER

SKANKWEAR

NEW RELEASES

CD REVIEWS

SKANK RADIO

MYSPACE

ARTICLES

POSITIVE VIBES ON KDHX

CONCERT REVIEWS

FAVORITE LINKS

GET IN TOUCH

WHO IS PROFESSOR SKANK?