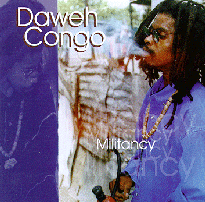 DAWEH CONGO
Militancy
(Runn)



I finally picked this CD up and all the great things I've heard about it are true.

Daweh Congo was born in 1969 and his father is the great Reggae singer, Leo Graham. Obviously the blood lines are there, as this is one excellent CD.

The songs are conscious and spiritual and have a real deep roots vibe as Congo truly sounds like a young Winston Rodney. You'll find 12 tracks and just over 50 minutes of crucial sounds on this release.

This strong debut proves that Daweh Congo will be a force to be reckoned with for years to come.



For RUNN Records' website, check out RUNN RECORDS






MAIN PAGE

SKANK RECORDS

FREE SKANK SAMPLER

SKANKWEAR

NEW RELEASES

CD REVIEWS

SKANK RADIO

MYSPACE

ARTICLES

POSITIVE VIBES ON KDHX

CONCERT REVIEWS

FAVORITE LINKS

GET IN TOUCH

WHO IS PROFESSOR SKANK?