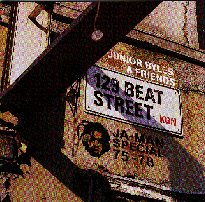 Junior Byles & Friends
129 Beat Street
Ja-Man Special 1975-1978
(Blood And Fire)

Blood And Fire, in only four short years, has established itself as the premiere re-issue label in Reggae music. Since 1994, it's released outstanding material from such artists as The Congos, Horace Andy, U Brown, Jah Stitch, I Roy and Burning Spear, as well as some of the wickedest dub ever created. The recent compilation, "Junior Byles & Friends 129 Beat Street," is no exception.

As Steve Barrow writes in the liner notes, "[129 Beat Street] was the address that gives the title to this compilation - Dudley 'Manzie' Swaby and his then-partner, the late Leroy 'Bunny' Hollett moved into premises on this street late in 1975...From the House Of Music at 129 Beat Street they issued a series of recordings - both in roots style and love songs - that have easily stood the test of time. Most of this music has never been issued outside of Jamaica; this compilation is hopefully the first of several to chronicle Manzie Swaby's underground roots legacy."

And what a legacy! From the opening lyrics, 'Who God bless no man curse,' this is a 52 minute journey through some of the rootsiest Reggae to come from the mid-to-late '70s, with outstanding musicianship from some of the island's greatest session players. Junior Byles gets the marquee billing as he checks in with two tracks, then duets with Rupert Reid on two others. You'll also find wicked extended mixes from Pablo Moses, Bim Sherman, Dave Robinson, Neville Tate and Reid again. There are also songs from Brigadier Jerry and U Brown.

The packaging, as has been the case since the first Blood & Fire release, is superb with informative liner notes, cool imagery and track-by-track commentary.

In the early '80s, Manzie left Jamaica and the recording industry, and emigrated to New York where he still resides. Thankfully, though, not before producing these important pieces of Jamaican history. Although these tunes were recorded over 20 years ago, they still remain - as Mr. Barrow mentioned - timeless. Pick up "Junior Byles & Friends" and hear for yourself. This one's guaranteed to blow you away.


To check out Blood And Fire's website, check out BLOOD AND FIRE.






MAIN PAGE

SKANK RECORDS

FREE SKANK SAMPLER

SKANKWEAR

NEW RELEASES

CD REVIEWS

SKANK RADIO

MYSPACE

ARTICLES

POSITIVE VIBES ON KDHX

CONCERT REVIEWS

FAVORITE LINKS

GET IN TOUCH

WHO IS PROFESSOR SKANK?