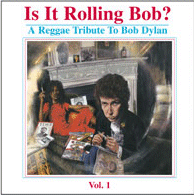 Various Artists
Is It Rolling Bob?
A Reggae Tribute To Bob Dylan

(Ras/Sanctuary)

Bob Dylan is one of the greatest songwriters of the modern era. Reggae music is serious music, with lyrics which hit deep. Great idea by Doctor Dread to combine the two, and have a cd of Dylan tunes done up reggae style.

Apple Gabriel kicks things off with "The Times They Are A-Changin'." Apple's vocals are still top-notch and he does a great job with this tune. Other favorite tunes include "Gotta Serve Somebody" by Nasio with Drummer Zeb and the Razor Posse (freaturing Incline), "The Lonesome Death of Hattie Carol" by Michael Rose, "Subterranean Homesick Blues" by Sizzla and the closing track, "A Hard Rain's A-Gonna Fall" by Billy Mystic of the Mystic Revealers.

There are also tunes by Luciano, Toots, Beres Hammond, Mighty Diamonds, Gregory Isaacs, JC Lodge, Abijah and Don Carlos.

This is a nice release. Nothing fantastic, but there's a lot of good sounds on it. It says "Vol. 1" on the cover, so obviously that means there will be more to come. Anything that gets reggae more exposure - and this cd definitely does that - is cool with me.






MAIN PAGE

SKANK RECORDS

FREE SKANK SAMPLER

SKANKWEAR

NEW RELEASES

CD REVIEWS

SKANK RADIO

MYSPACE

ARTICLES

POSITIVE VIBES ON KDHX

CONCERT REVIEWS

FAVORITE LINKS

GET IN TOUCH

WHO IS PROFESSOR SKANK?