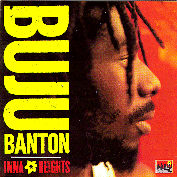 BUJU BANTON
Inna Heights
VP/Penthouse

This ran in Reggae Report in 1999.

Since reviewing records for Reggae Report the last few years, I've only given two truly deserving vintage releases the extremely hard-to-attain five star "classic" rating. This past year saw Lucky Dube's "Taxman" almost reach those heights, with 4 1/2 stars, and although I didn't think there would be another current release to rival that one, Buju Banton's latest CD is right there.

Until his blockbuster single, "Murderer," and 1995's "Til Shiloh," I was never enamored with Buju's rough, slack style. But with his new, more mature delivery Buju is HOT and "Inna Heights" is - without a doubt - one of the year's best releases.

Two accapella tracks, "Our Father in Zion" and "Circumstances," open and close the disc respectively, and in between there's almost one hour of outstanding Jamaican sounds, ranging from modern Roots to Dancehall (there's even a Ska scorcher thrown in called "Small Axe").

Right off the bat, the powerful "Hills and Valleys" is simply as good as it gets, with Buju crankin' up the consciousness. You'll also find absolute favorites "Destiny," "Cry No More," "Single Parent," "Close One Yesterday," "Love Sponge" and a wicked modern version of "54-46" with Toots himself! There are also crucial duets with Beres Hammond, Ras Shiloh, Red Rat and Jahmali.

This CD is produced by Donovan Germain as well as a few by Buju and the sound and flow is exceptional. A new and interesting twist you'll find is brief and thoughtful dialogue from Buju entitled "Inter Lingua," which is interspersed between five of the 16 tracks.

Even though "Inna Heights" encompasses various styles, the common thread is Buju's well-crafted, conscious lyrics. As a result, this release should satisfy all, from hardcore Roots lovers to Dancehall fanatics. Pick this one up ASAP.






MAIN PAGE

SKANK RECORDS

FREE SKANK SAMPLER

SKANKWEAR

NEW RELEASES

CD REVIEWS

SKANK RADIO

MYSPACE

ARTICLES

POSITIVE VIBES ON KDHX

CONCERT REVIEWS

FAVORITE LINKS

GET IN TOUCH

WHO IS PROFESSOR SKANK?