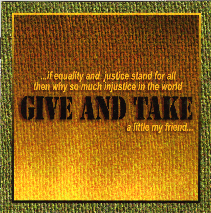 CLINTON FEARON and Boogie Brown Band
Give And Take
(Kool Yu Foot)

"Give And Take" is a great new cd from Clinton Fearon and the Boogie Brown Band.

Based out of Seattle Washington, Clinton and crew still bring authentic roots to the table, and this is a great release.

The sound is tight and the message is conscious. Clinton Fearon still has what it takes....

Check it out. You'll be impressed.






MAIN PAGE

SKANK RECORDS

FREE SKANK SAMPLER

SKANKWEAR

NEW RELEASES

CD REVIEWS

SKANK RADIO

MYSPACE

ARTICLES

POSITIVE VIBES ON KDHX

CONCERT REVIEWS

FAVORITE LINKS

GET IN TOUCH

WHO IS PROFESSOR SKANK?