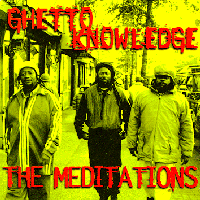 THE MEDITATIONS
Ghetto Knowledge
(Easy Star Records)

The Meditations are, without a shadow of a doubt, one of the most talented and respected vocal trios in the history of Reggae Music.

Formed in the mid-'70s, Ansel Cridland, Danny Clarke and Winston Watson comprised one of Bob Marley's favorite groups, even singing harmony on three of Marley's compositions, "Blackman Redemption," "Rastaman Live Up" and "Punky Reggae Party."

The release of this brand new disc shows this classic group is still at the top of its game.

Released on Easy Star Records (one of the best new labels in the genre) "Ghetto Knowledge" consists of 17 tracks and just over 65 minutes of great sounds.

The CD kicks off with "African Connection" and from there it is a wicked journey of conscious roots reggae, containing such killers as "Ghetto Is A College," "Educated Fools," "Rudeboy Corner," "Jah Music" (originally found on the excellent compilation "Easy Star Volume One") and even the group's own rendition of "Blackman Redemption."

The harmonies - as usual - are superb and the songwriting is extremely tight and infectious, but what else would you expect from these living legends. Many of the songs were originally penned years ago; some were from the 70's, some from the 80's and a few were recently written. And all were freshly recorded for the first time at Easy Star. The production (with the majority being done by Ansel Cridland) is also exceptional with a crisp and clean modern roots sound.

Among the fantastic musicians who lend their support, you'll find Sly Dunbar, Style Scott, Familyman Barrett, Sky Juice and Ras Barnibas.

"Ghetto Knowledge" shows The Meditations still releasing vibrant and righteous material. Go pick it up and hear for yourself.




To check out Easy Star's website... EASY STAR.






MAIN PAGE

SKANK RECORDS

FREE SKANK SAMPLER

SKANKWEAR

NEW RELEASES

CD REVIEWS

SKANK RADIO

MYSPACE

ARTICLES

POSITIVE VIBES ON KDHX

CONCERT REVIEWS

FAVORITE LINKS

GET IN TOUCH

WHO IS PROFESSOR SKANK?