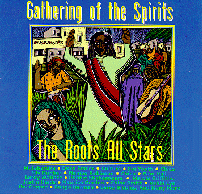 The Dub All Stars
Gathering Of The Spirits
(Shanachie)



"Gathering Of The Spirits" is an excellent compilation that was conceived and produced by Mutabaruka. Two years in the making, it's Mutabaruka lashing out at computerized music, as he assembled an all-star cast ("The Roots All Stars") to record "live" in the studio. The liner notes state that "...the studio was finally booked at night. It was a reuniting of spirits, a travelling back in time, to the days when musicians played instruments...It reminded us of a first time Jamaican studio session. The feeling of togetherness was truly once in a lifetime synergy."

Using Cream of the crop musicians, this disc has 12 tracks and over 56 minutes of modern sounds. Starting off with "Big Turtle River" by Mystic Revelation Of Rastafari, the CD also contains songs by (in order) Culture, Big Youth, Justin Hinds, The Mighty Diamonds, Judy Mowatt, Mutabaruka, Marcia Griffiths, Pablo Moses, Ernest Ranglin, Hortense Ellis and another one by Mystic Revelation Of Rastafari.

"Gathering Of The Spirits" is a well-done project, and in the liner notes Mutabaruka writes "I hope the songs included here will fulfill your reggae expectations so that your purchases will enable the creation of Volume 2."



To check out Shanachie's website... SHANACHIE.






MAIN PAGE

SKANK RECORDS

FREE SKANK SAMPLER

SKANKWEAR

NEW RELEASES

CD REVIEWS

SKANK RADIO

MYSPACE

ARTICLES

POSITIVE VIBES ON KDHX

CONCERT REVIEWS

FAVORITE LINKS

GET IN TOUCH

WHO IS PROFESSOR SKANK?