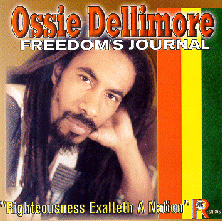 Ossie Dellimore
Freedom's Journal
(AB Records)

In 1998, Easy Star records released an outstanding compilation entitled "Easy Star Volume One." Of all the killer tunes, my favorite was the extremely powerful "Time Has Come" by an artist named Ossie Dellimore.

Fast forward to the year 2000 and it's obvious that Mr. Dellimore has been a busy man as he has created a CD which in its entirety easily equals the high quality of the aforementioned track.

The self-produced "Freedom's Journal," on AB Records, is just over 46 minutes of crucial sounds. Starting with "The System," this disc is full of beautiful harmonies, catchy tunes and Ossie's signature vocals jumping out of the speakers, demanding to be heard. His songwriting is excellent, his lyrics are conscious and uplifting and his backing band - the Soldiers Of Justice - lay down some rocking, TIGHT, intricate rhythms.

Each of the 10 tracks is superb. "Time Has Come" has been redone in a jazzier style and "Fire Man," "To The Limit," "Got To be Free," Downpressor Man," "Rocker Reggae," "A Better Way," "Justice" and the closing track - a collaboration with Junior Demus called "Sharp As A Razor" - will secure this disc as one of the best releases of the year.

If you like bright, poppy, ROOTS reggae with an edge, believe me, this disc will blow you away. With the release of "Freedom's Journal," Ossie Dellimore has moved from an artist who has been virtually unknown to one whose time truly HAS come.



To check Skank Records' re-issue of "Freedom's Journal"...... FREEDOM'S JOURNAL.






MAIN PAGE

SKANK RECORDS

FREE SKANK SAMPLER

SKANKWEAR

NEW RELEASES

CD REVIEWS

SKANK RADIO

MYSPACE

ARTICLES

POSITIVE VIBES ON KDHX

CONCERT REVIEWS

FAVORITE LINKS

GET IN TOUCH

WHO IS PROFESSOR SKANK?