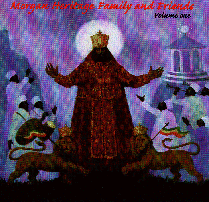 VARIOUS ARTISTS
Morgan Heritage Family And Friends, Vol. 1
(AO!)


This is one killer CD. It starts off with Morgan Heritage's "Liberation" then continues on that same offbeat and powerful rhythm for almost 70 minutes (the only song on a different rhythm is track 7, Denroy Morgan's "Link Up"). You'll hear conscious tunes from such artists as Capleton, JAH Cure, Ras Shiloh, Pinchers, Jahmali and even a collaboration between Morgan Heritage and Toots Hibbert.

This is modern roots at its finest. Check it out.



To check out Artists Only's website... AO!






MAIN PAGE

SKANK RECORDS

FREE SKANK SAMPLER

SKANKWEAR

NEW RELEASES

CD REVIEWS

SKANK RADIO

MYSPACE

ARTICLES

POSITIVE VIBES ON KDHX

CONCERT REVIEWS

FAVORITE LINKS

GET IN TOUCH

WHO IS PROFESSOR SKANK?