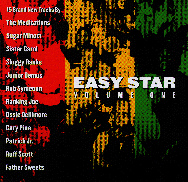 VARIOUS ARTISTS
Easy Star Volume One
(Easy Star Records)

Without a doubt Easy Star Records is currently creating some of the most crucial sounds to be heard in modern Roots Reggae.

In July of 1997, this New York-based label released its first 7", Rob Symeonn's excellent "Anything For Jah." They followed with three more outstanding singles, Ruff Scott's "What Goes Around," Father Sweet's "Sight Of An Eagle," and "Time Has Come" by Ossie Dellimore.

Easy Star has compiled these tracks, as well as killers from such veterans as the Meditations, Sugar Minott and Sister Carol, and the result is 15 tunes and over one hour of some of the best Roots Reggae to come out in years.

Produced by Michael G with some mixing and engineering by Ras Barnibas (as well as Beto Cruz, Donovan and Michael G) the resulting sound is clean and powerful with an "old school" feel (it's played live by the "Easy Star All Stars") and the lyrics are as conscious as it gets. Each artist has a lot to say, and each says it over hypnotic and infectious rhythms.

"Jah Music" by the Meditations kicks things off in fine fashion as Ansel Cridland implores us: "Don't take Jah Music just for dancing pleasure." It then moves on to Sugar Minott and continues on through the above-mentioned singles as well as conscious tunes from Sluggy Ranks, Gary Pine and Patrick Jr. This is as righteous as serious and as good as it gets.

If you're a fan of the old classic style, you're going to love this disc. Maximum respect goes out to the Easy Star crew for a job well done. This one will keep you skanking 'til Volume 2 is released.




To check out Easy Star's website... EASY STAR.






MAIN PAGE

SKANK RECORDS

FREE SKANK SAMPLER

SKANKWEAR

NEW RELEASES

CD REVIEWS

SKANK RADIO

MYSPACE

ARTICLES

POSITIVE VIBES ON KDHX

CONCERT REVIEWS

FAVORITE LINKS

GET IN TOUCH

WHO IS PROFESSOR SKANK?