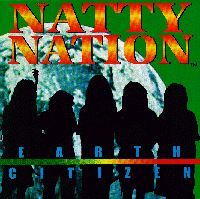 NATTY NATION
Earth Citizen
(One Ten)

Natty Nation, hailing from Madison, Wisconsin, is truly one of America's best Reggae bands. Formed in 1996 and releasing their debut the same year ("The Journey Has Just Begun...") this quintet epitomizes Roots Rock Reggae as they play conscious Roots with a Rock 'n Roll edge.

Their sophomore effort, the self-produced "Earth Citizen," contains 12 tracks and just over 50 minutes of powerful sounds. Starting with "Come Home," and including such favorites as "Brand New World," "Open The Door," "Music," "Save I" and "Heart Says," the songs are catchy and well played, the harmonies are crisp and the lead vocals (switched between Demetrius Wainwright and Jeffrey Maxwell) are always right on. It's apparent that the group's constant touring has honed the five members into an extremely cohesive unit.

It's also apparent that some of the best Reggae out there doesn't necessarily have to come from Jamaica. Natty Nation proves it as "Earth Citizen" is one of the best releases of the year.





For Natty Nation's website...NATTY NATION.






MAIN PAGE

SKANK RECORDS

FREE SKANK SAMPLER

SKANKWEAR

NEW RELEASES

CD REVIEWS

SKANK RADIO

MYSPACE

ARTICLES

POSITIVE VIBES ON KDHX

CONCERT REVIEWS

FAVORITE LINKS

GET IN TOUCH

WHO IS PROFESSOR SKANK?