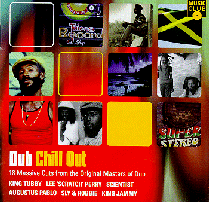 VARIOUS ARTISTS
Dub Chill Out
(Music Club)



Music Club's mission statement reads: "Music Club is revolutionizing the reissues market by selling full-length CDs (most of which are 60+ minutes and/or a minimum of 16 tracks) featuring excellent sound quality, original liner notes and superb artwork, all for about $10."

They've released a few CDs this year, with "Dub Chill Out" being one of my favorites.

"Dub Chill Out" is subtitled "18 Massive Cuts from the Original Masters Of Dub" and it contains over one hour of crucial and classic dub sounds. The cover states there are tunes from King Tubby, Lee "Scratch" Perry, Scientist, Augustus Pablo, Sly & Robbie and King Jammy. All heavyweights for sure, but unless my hearing is playing tricks on me, there are no dubs from Lee Perry.

Regardless of the credit mistake (and picture of Perry on the front cover), this is a crucial CD and one worth picking up.



To check out Music Club's website... MUSIC CLUB.






MAIN PAGE

SKANK RECORDS

FREE SKANK SAMPLER

SKANKWEAR

NEW RELEASES

CD REVIEWS

SKANK RADIO

MYSPACE

ARTICLES

POSITIVE VIBES ON KDHX

CONCERT REVIEWS

FAVORITE LINKS

GET IN TOUCH

WHO IS PROFESSOR SKANK?