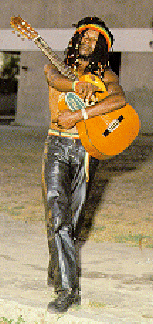 This originally was for Reggae Report in 1996.

WINSTON JARRETT
The Flame Still Burns
By Professor Skank

Winston Jarrett, one of reggae music's true pioneers, is a relatively unknown Jamaican who has witnessed his island's music transform from the ska explosion of the early 60's through the vibrant periods of rock steady and reggae. Not content to merely watch this musical revolution, Jarrett (along with his boyhood friend, Alton Ellis) proceeded to form one of Jamaica's most popular groups, Alton Ellis and the Flames.

"Alton had a duo before me called Alton and Eddie," disclosed Jarrett in a recent interview. "We hook up in 1964, we used to sing for Treasure Isle, ya know? We do songs for Duke Reid like, 'Girl, I've Got A Date,' 'Cry Tough,' 'Why Birds Follow The Spring' and 'Ain't That Loving You.' We were one of de top groups for Duke Reid, along with John Holt and de Paragons, Slim Smith and de Techniques, Justin Hinds and de Dominoes, Stranger Cole. It was an incredible time when de ska turned into rock steady, man."

As the man nicknamed "Flames" fondly reminisced, he discussed (among other things) his youth, his dealings with reggae legend Bob Marley and his feelings on being a Rastaman.

"Yeah Professor, I was born in de parish of St. Anns, Lime Tree Garden. You know, dat was where Bob Marley was born. My Father's a deacon in de church and my Mother's a Christian, too. So I grew up in a Christian family. When I was five, my Mother took me to Kingston, so dat's where I grew up. Me and Bob grew up as friends in de same community. We smoke together, we unite together, we drink cornmeal porridge together.

"We used to play a little Cricket and Football [Soccer]. I Love sports, I love to wake up in de morning and excercise and keep fit, ya know? And I specialize in a certain type of food to eat, as a Rastaman. Ital food, man. 'Tis vital. And as a Rastaman, I know, as well as every wise man supposed to know, that herb was grown on Solomon's grave. It's good for glucoma, ya know many ills, and for meditation. Ya see, I use it for meditation and to give me spiritual vibes. I burn herb to gain wisdom, knowledge and overstanding, 'cos your t'inking box [he points to his head] is where de Father dwell.

"Back in de ska days, Coxsone had a little blue morris van parked in de yard. Dat's where Bob and Bunny and Peter used to sit and practice and I'd come with a little bag of herb with maybe 10 or 15 sticks and I'd give dem 1 or 2 of dem.

"No one was dreading at dis time, and," Jarrett added with a laugh, "we all wore bell foot [bottom] pants. All de big guys, Coxsone, Duke Reid, King Edward de Giant, they'd all go to de U.S. and England and buy all d'ose R&B records and bring dem back and give dem to us to listen and learn. Little Richard, Drifters, Temptations, Impressions, Nat King Cole. We'd change the lyrics and I remember the great Jackie Mittoo playing at Studio One with one hand on de organ and one hand on de piano, man."

At this point, Jarrett again talked of his association with Alton Ellis.

"Me and Alton grew up together, two doors apart from each other. I was a harmony singer at dat time and Alton was de lead singer. We write many songs together. We'd sit together in de night, smoke herb, or in de day, and we'd practice and practice. In 1968, Alton migrate and went to England and came back, but in 1973 he left for good. So because of his departure, I began to lead and compose.

"So I started to lead with [harmonist] Eggar Gordon and the first tune I did was 'I've Got The Music In My Bones.' We had another vocalist but we changed him to Jr. Green and from dat time Jr. Green is d'ere until dis day. De group's name was originally Alton Ellis and de Flames, then it changed to de Righteous Flames when I started to lead. I didn't project my name until Mr. Pottinger told me to, because I was doing most of de work.

"I did 'I Was Born To Be Loved' for Studio One. Dat was my biggest song, and 'Up Park Camp' and 'Fear Not The Almighty Dread.' I did those for Coxsone, too. At de same time, me and Enid Cumberland and Larry Marshall teamed up as de Freedom Singers and did songs like 'Hide Away,' 'Everything Crash' and 'Easy Come Easy Go.' Dem are all good songs, man."

Less than one decade earlier, Jarrett witnessed an event that would influence his entire life, as well as his career.

"In 1966, His Imperial Majesty came to Jamaica. I seen Haille Selassie with me OWN eyes! It was my turning point. D'ere were Rastaman of all walks of life staying d'ere from about t'ree weeks before His Majesty come to Jamaica. Mortimer Planner was de head of de Rastafari culture. I know him from dat time, so I decided to go see His Majesty when he came to our country."

At this point, an intense Jarrett painted a vivid picture.

"De rain was fallin', de sun was hot. I was up on top of de roof and all de Rastamen were waiting for dat moment to see de Kings of Kings and Lords of Lords. And den I hear like a t'under roll and de rain start falling harder and de plane come down and I see de Lion come from out of de plane. And Mortimer Planner walked up de stage and meet His Majesty at de door, and a dove was on his shoulder, I saw it wit me own eyes! And den d'ere was a t'under roll again.

"So from dat point I became "Conscious" and start wearing me Natty Dreads. Ya see, Mortimer Planner told me dat if I come amongst all de Rastafari I have to have me own covenent. I believed in Rasta before, but from dat point I start to wear me dreads."

It's hard to imagine, but through the years this committed and talented Rastafarian has had limited touring opportunities.

"I toured in 1979, in Bermuda. And last year I toured in Japan. Ziggy Marley was d'ere, Mother Booker [Bob Marley's mother], Jimmy Cliff, T'ird World. It was wild. First time I EVER seen anything like it. They'd strip demselves naked as the day dey were born and dey were just crazy, man," laughed Jarrett. "And I'll tell ya, I had blisters on me fingers - I couldn't use dem for weeks - because I had to sign so many autographs. Everyone wanted me autograph in Japan."

This engaging personality, now a youthful 55 years of age, continues to make vibrant roots reggae, with proof being his latest release on Ras, entitled 'Too Many Boundaries.' Not only does he compose and sing lead, but he also produces and arranges. As we finished our conversation, "Flames" had some final words.

"Yeah, I'm still going in de business strong, ya know? I've been working hard, and I have faith in Jah and I know what I'm doing will one day pay off. Some of my vintage songs, I'm gonna do dem again some day. Call it 'Collection Items: The Best of Winston Jarrett.' I'll use de best band wit de best musicians and it'll be great, man.

"But for now I'm preparing myself for repatriation to Africa and all Brothers and Sisters who want to come can go and beg up de man for a better day and drink milk and honey and praise His Majesty, de Kings of Kings and Lords of Lords. It gonna be a BIG fight between de Rasta culture and de Babylon system, we know dat, but me preparin, 'cos we know dat de harder de battle, de sweeter de victory."





MAIN PAGE
SKANK RECORDS
FREE SKANK SAMPLER
SKANKWEAR
NEW RELEASES
CD REVIEWS
SKANK RADIO
MYSPACE
ARTICLES
POSITIVE VIBES ON KDHX
CONCERT REVIEWS
FAVORITE LINKS
GET IN TOUCH
WHO IS PROFESSOR SKANK?