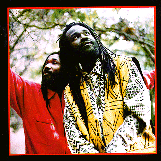 This originally ran in the St. Louis Post Dispatch in 1992.

WAILING SOULS
Legendary Reggae Group Coming To Town

The Wailing Souls, since the early 70's, have been one of reggae music's greatest vocal groups. Having released some of that genre's most memorable recordings, this classic twosome is held in the highest regard by countless listeners.

Their recent signing to Columbia records has resulted in their first major Stateside tour as well as a new release, "All Over The World," which has been both a critical and commercial success.

St. Louisans will finally have a chance to see these legendary singers when they perform at Mississippi Nights on Tuesday June 29th, with local favorites Reggae At Will opening the show.

Even with their new found national exposure and much deserved recognition, this duo is still extremely accessible and down-to-earth, as was the case in a recent phone interview with lead singer Winston "Pipe" Matthews. During the conversation he talked of his group, their current tour, his teenage singing days with Bob Marley and basic reggae philosophy.

"The tour has been unbelievable, boss. So far we've been playing to mostly sold out crowds," Matthews deliberately said in his Jamaican accent. "We've had great reviews - the people have responded very well. We've even played some shows with 10,000 Maniacs [the popular rock act]. We opened for them in Denver and when we came on stage over 10,000 people were standing up - they stayed that way until we finished. It was positive, boss.

"In St. Louis we should be on stage for close to two hours. Our touring band plays some real crucial reggae. These guys are master musicians. We'll do some classics like "Mr. Fire Coal Man," "Back Out With It," "Things And Time," "Jah Jah Give Us Life To Live," "War," "Bredda Gravilicious" as well as 8 or 9 songs from the new album. We're even bringing Pappa Juggy with us [one of the DJs on their latest release].

"Ya know, people, when they go to a concert, they always come to see something extra. So I always feed on that momentum - that good vibration - to really give the people their money's worth."

The Souls began their outstanding career as a quartet and are now comprised of only founding members Matthews and Lloyd "Bread" McDonald. In 1988 they moved from Jamaica to Los Angeles.

"Ya see the Father showed me and 'Bread' that we were supposed to leave Jamaica if we were to really get our music to everyone.

"I was born with this acoustic ability to do music. 'Cause ya see, boss, I came to America with the reggae in me, ya know? And the only thing I see to do was to mix my music with some of the American sounds, like R&B and rap, to raise our sound to an international level.

"Ya know, people say I sound like Bob Marley, and that's good, boss. We both went to the same school and had the same teacher [Joe Higgs]. Ya see, Bob and Joe were older and they saw that us younger guys had potential. They would take us with them when they went to jam. So we got that schooling from the days when we were traveling up and down Kingston.

"I've been told that my voice is a voice that comes only once a decade. I was blessed with it. I get this calling from the Almighty so that I can serve - to spread the words to all the people. Peace, love and unity. Those are the things that we must think about, ya know, boss? We need to live in one harmony.

"All our inspiration comes from the Most High. Ya see, our songs deal with consciousness. I've learned that if you forget your roots, you won't be here. 'Cause whenever a tree loses its roots, it dies. So you need to cling to your roots.

"Make sure to give all my blessings and all my love from me and 'Bread' to all the people in St. Louis - all our new fans and all the ones that have followed us throughout the years. We look forward to a great show in your city, boss. Maximum respect goes out to each and every one of you."






MAIN PAGE

SKANK RECORDS

FREE SKANK SAMPLER

SKANKWEAR

NEW RELEASES

CD REVIEWS

SKANK RADIO

MYSPACE

ARTICLES

POSITIVE VIBES ON KDHX

CONCERT REVIEWS

FAVORITE LINKS

GET IN TOUCH

WHO IS PROFESSOR SKANK?