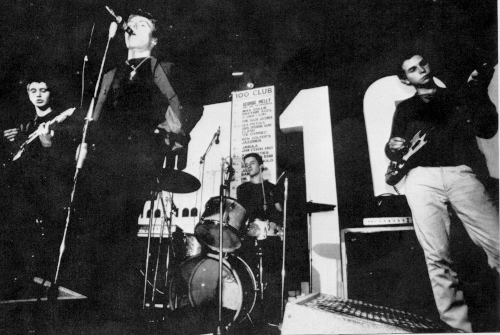 Pictured: Subway Sect - Rob, Vic (on vocals), Paul and Paul. Live at the 100 Club.




In early 1999, I decided - through the power of the internet - to get some words on possibly the most vibrant musical scene to ever exist, the mixture of Punk and Reggae in London over 20 years ago.

Through reggae internet connections, I've recently been introduced to James Dutton of Motion Records. Through emails, Dutton also mentioned to me that he is currently managing Vic Godard who, to us ageing "punks," was well known as the man who led Subway Sect, a group that was a part of that 1977 Punk scene. And so I thought, why not pose a few questions...

(Obviously, PS is me, VG is Vic and JD is James)...

PS: Did Steel Pulse or other groups play with "punk" bands on the same bill ?

VG: Subway Sect supported Steel Pulse (plus Crazy Cavan & The Rhythm Rockers) at Alexandra Palace in '78 or '79 (before the fire). I wasn't into that sort of reggae though. We were into Clint Eastwood, Ranking Trevor, Trinity, Ranking Joe, Dillinger and all the djs. We supported Tapper Zukie at the Rainbow theatre in '78 when Pattie Smith was headlining. We were 3rd on the bill (ie bottom) and our bass guitar wouldn't work in the soundcheck so we had to summon up the courage to ask this huge giant of a man (Tapper's bass player) if we could borrow his guitar - to which he generously said yes and we got a great review as a result of it.

PS: Did you see Marley in 77 ? Or before ?

VG: No

PS: Who brought reggae into the scene ? Was it The Clash ?

VG: Paul Simenon and Mickey Foote (Mickey was the soundman). I also remember Joe Strummer after the all nighter at the Palais and before he wrote that horrendously embarrasing song about it...["White Man In Hammersmith Palais"]

PS: How about the Pistols ?

VG: John Rotten and John Gray.

JD: Vic was managed by Bernie Rhodes who also managed The Clash...they rehearsed in the same place, hung out

PS: Ever see Marley walking around London in '78 when he lived there ?

VG: No, but not really into Marley

PS: Did you know he was in London???

VG: May have known because NME and Sounds magazines would have mentioned it and had features on Marley. Marley was considered "pop"....not despised, just a little too commercial for the punks.

PS: Was Reggae heard on the radio ?

VG: From my personal point of view I got to listen to most of the best 12" singles in '76-'77 on the John Peel Show. He also loved dj music at that time and I used to sometimes see him in the same record shops as us in the west end looking for things to play on his show. Oh how I'd love to have my old collection. Of course we all went on to be junkies in the 80's and sold all our records. My flatmate at the time - Rob Green - worked on a market stall outside a reggae shop in Shepherds Bush market and he got lots of 12"s free every Saturday when the new ones came in from JA. He would bring new ones home every week. The ones I'd like most are "Hotter (?) Cup (?) Claps Dem" by Ranking Joe and "No 1 dj" by Rankin Trevor - and "There's a hole in my bucket" by nigger kojak - who (I'm told by Dennis Bovell ) is a farmer now....but I could go on and on trying to remember records. I think that golden era for dj music only lasted maybe 4 or 5 years at that time - but the only similar stuff I listen to now is all old U Roy stuff because it's easily available on Heartbeat from Canada.

PS: Anything else that you'd like to reminisce about reggae during those days

VG: Best gig ever was Clint Eastwood at 100 club and Fulham Town Hall in '77.

Now a few interesting stories from James...

JD: I played on the B-side of a Subway Sect single and rehearsed with them for a time....prior to that I was in The Interrogators, a 'punk' band that played some dub reggae live.....we had a dread called Dread Lepke (Leroy Anderson, Rita Marley's brother) doing our live mixing....he used a loop tape echo to add dub effects. This was '77. Leroy started DBC (Dread Brodcasting Corporation, the first pirate reggae station in London)

I went to see Steel Pulse at the 100 Club (where the punk festival of '76 took place) and Joe Strummer (who I didn't know, despite knowing Vic) used the palm of my hand for rolling a big spliff. Quite a few punks were in the audience.

And Dread Lepke took me to see Dillinger at the Music Machine, a large venue in London. We arrived a little early and went into the game room. I was very impressed when Dillinger, who was playing pinball, recognised Leroy and got us to play pinball with him for half an hour or so ! He gave us copies of "Cocaine In My Brain" his current hit single (that he was promoting)

Also saw Tapper Zukie at the Music Machine - excellent.

I think most of the punk scene didn't like "Punky Reggae Party" (Marley), not in an anti sort of a way - we thought it was a little too commercial again.

Leroy "Dread Lepke" Anderson used to play me a 1/4" tape of Bob and band jamming/rehearsing in a hotel room (while on tour?) - acoustic and good quality. I wonder whatever happened to that tape !

In the early 80's a skinhead used to turn up at our gigs (I think he was a fan of Local Operator, the band we were supporting), and hassle us to go and see his band. He was considered a bit of a nuisance and people used to fob him off with excuses. Eventually he gave me a flier for one of his gigs and because it was up the road from me in Camden I thought I would go along. On the night I went into the venue, a pub called The Dublin Castle, he immediately came hurrying over to ask if "The Locals" were going to turn up. I again slightly fobbed him off. (Skinheads were at that time viewed suspiciously because of their racist / right wing / neo nazi reputations - this was the time of large Anti Nazi League rallies and racist violence was on the increase.)

Anyway, the rest of my band and some other friends turned up and eventually we could hear the band playing from the back room. I wandered in to watch the band (none of my mates could be bothered) and they were brilliant. They played a Prince Buster/Ska style set, all wore black suits and were a blur of choreographed craziness on stage. The small crowd in the tiny back room was going crazy ! Then they played a song saying "we named our band after this song cos we like it so much". The song ? Madness of course ! I should point out that Madness weren't of course right wing or racist. Unfortunately, as they became more and more popular, right wing elements often attempted to hijack their gigs and fights were common place. Often groups of skinheads would take over 'security' at these gigs and groups of National Front/British Movement (very right wing political parties) thugs would try to stir up trouble with the rest of the group's fans. This could be quite frightening but also somehow gave the gigs a hightened sense of excitement.

Eventually of course the fight against these right wing groups was won, partly after the formation of groups such as Skinheads Against the Nazis (SAN) and The Anti Nazi League. Madness of course went on to become huge and Suggs is now a 'Television Personality' in the UK presenting TV shows and turning up all over the place.






MAIN PAGE

SKANK RECORDS

FREE SKANK SAMPLER

SKANKWEAR

NEW RELEASES

CD REVIEWS

SKANK RADIO

MYSPACE

ARTICLES

POSITIVE VIBES ON KDHX

CONCERT REVIEWS

FAVORITE LINKS

GET IN TOUCH

WHO IS PROFESSOR SKANK?