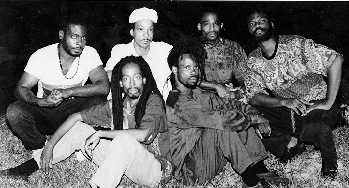 This originally ran in the St. Louis Post Dispatch in 1993.

REGGAE AT WILL
St. Louis Band Plays Authentic Reggae Music

By Professor Skank

Reggae music in St. Louis is beginning to pick up steam. Powerhouse KMOX radio has a reggae theme for its morning show. There have been good crowds for touring bands; witness the large turnout for the Reggae Sunsplash show. Some public radio stations have great reggae shows (most notably KDHX's "Positive Vibrations"). And a few local bands are carrying on the Rasta spirit.

Without a doubt, the best of the bunch (from popular acclaim) is Reggae At Will (RA.W). Consisting of Sunni Danaayaal on drums, Jody Carter on keyboards, guitarist Craig Florez, bassist Kirk Wheeler, and lead singer Donavan "Danny" Brissett, RA.W have been consistently packing St. Louis' dance floors for quite some time now.

In a recent interview, Brissett expounded on the band: "yeah, we've been together since 1990. I was with Level Vybes, and Reggae At Will had been around for a couple of years before that. We got together, I joined the band, and things have been really cool since, mon."

Asked about the support from St. Louis, Brissett continued in his Jamaican accent: "the reception has been fantastic. We've been voted No. 1 already this year in Spotlight magazine, and last year we were voted best reggae band by both Spotlight and the Riverfront Times. We have a new cassette of 4 original songs which should be ready any day now. We've been performing them live, mon, and they've been going over really well."

The cassette, which features "Woman," "Egotistical Girl," "Given Time," and "Addiction," is good, but their live shows are better - in effect, they're what this band is all about. Their chemistry, look, and sound is as good as any reggae band you're likely to see. The music is played with exceptional tightness, as they mix their originals in with classics from such artists as Gregory Isaacs, Steel Pulse, Third World, and Bob Marley (in fact, they've opened for such international acts as Black Uhuru, Jimmy Cliff, Yellowman, and Eek-A-Mouse). Visually they're exciting, with the dreadlocked Brissett being the focal point. Having recorded in Jamaica from 1977 through 1983, his professionalism shows. Even though he's soft-spoken ("don't play me up, just put me in as part of the band"), he's obviously much more than that. The other members mesh with him well, all have good stage presence, and most importantly, it's apparent that they, as well as the audience, have a lot of fun.

RA.W can be seen in St. Louis almost any night of the week (except Sundays and Mondays when they play in the Ozarks). Yet this will soon change as a headlining gig at Chicago's "Hot House" in late September is sure to give this local band some more recognition, and consequently more out-of-town shows. So be sure to check them out before its too late. This authentic taste of Jamaican music is here in our own backyard, and Reggae At Will is it.






MAIN PAGE

SKANK RECORDS

FREE SKANK SAMPLER

SKANKWEAR

NEW RELEASES

CD REVIEWS

SKANK RADIO

MYSPACE

ARTICLES

POSITIVE VIBES ON KDHX

CONCERT REVIEWS

FAVORITE LINKS

GET IN TOUCH

WHO IS PROFESSOR SKANK?