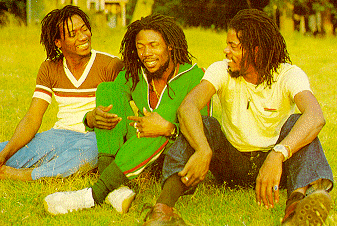 This originally ran in the St. Louis Post Dispatch in 1995.

February 6th marks the 50th birthday of the late reggae legend, Bob Marley. Celebration in town will begin the night before, as one of the genre's all-time great vocal trios, the Meditations, bring their smooth roots style to Mississippi Nights.

In the late 70's, Marley was so impressed with the harmonizing of Ansel Cridland, Danny Clarke and Winston Watson, he asked them to sing on three of his compositions, "Blackman Redemption," "Punky Reggae Party" and "Rastaman Live Up."

Besides their association with Marley, the Meditations released numerous outstanding tracks (many of which can be found on the recent Heartbeat compilation, "Deeper Roots: Best Of The Meditations"). Ten years after their inception they broke up in 1984, only to reform - after some makeshift lineups - in 1990. Now, five years later, the original members are embarking on a three week U.S. tour after successfully conquering Europe.

"It was our first European tour," disclosed Ansel Cridland in a recent interview, "and it was irie. We never played there before and all over the land people were surprised. They said they never seen three singers from Jamaica do the things we do. We even opened for [Lee] "Scratch" Perry - he's a true genius and he's big over there, mon.

"We really feel America is ready for reggae and we hope this tour proves it's time. We'll be doing lots of songs from "Deeper Roots," you know, sweet-sounding reggae. Some of the new material - with the computer sound - doesn't satisfy my heart. The flavor just isn't there, but with the older tracks you can FEEL the sweetness."

The musicians providing that "sweetness" include some highly talented players, according to Cridland.

"Our bass player has been around 20 years now, we have a keyboard player from the Ivory Coast and Barnabus will be with us - sometimes he plays the drums and sometimes he just engineers.

"We'll be playing classics, "Woman Is Like A Shadow," "Babylon Trap Them," you know, songs with a message."

When asked what that message was, Cridland answered with sincerity.

"We tell the people what's going on through our songs. The world is under pressure and people are feeling the strain. But don't take no gun and mash up. Call on Jah, 'cause once you believe in Jah, everything is possible.

"We're so lucky, mon. To have a roof over our head, to put food on our table, to have health and strength. We need to keep working together and remember to never give up, mon, never give up."

"Instead of standing on the corner and criticizing one another
instead of standing on the corner and scandalizing one another
Let's get together and help one another
and things will be better for our economy
it is so low man, it is so low"
-"Standing On The Corner"

With Marley's milestone birthday on the horizon, Cridland marveled over the legendary singer.

"When we worked with Bob and Lee Perry, it was a great experience, a great inspiration. We harmonized with Bob, he loved our sound. And you know, he'd still be doing the same things, the "one drop" [a roots style of reggae]. You see, he had the music in him. He's truly in a class by himself. He's the greatest artist to ever walk the face of this earth. Just check his message, his arrangements, his writing. Believe me when I say there will never be another one like Bob Marley, mon. Never."

Marley's spirit still lives, however, and the Meditations are true exponents of his style. The proof will come at the first major reggae event of the year, with local favorites Reggae At Will opening the show.

"The Meditations will be coming to St. Louis with our heart," said Cridland. "Our music is from deep down and everyone is guaranteed their money's worth, 'cause we're stronger than ever. Danny, Winston and myself, we're singing stronger than ever before, mon."






MAIN PAGE

SKANK RECORDS

FREE SKANK SAMPLER

SKANKWEAR

NEW RELEASES

CD REVIEWS

SKANK RADIO

MYSPACE

ARTICLES

POSITIVE VIBES ON KDHX

CONCERT REVIEWS

FAVORITE LINKS

GET IN TOUCH

WHO IS PROFESSOR SKANK?