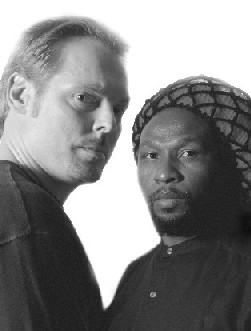 This originally ran in the St. Louis Post Dispatch in 1993.

Murder City Players, St. Louis' premier reggae band, celebrate their 10th year together with an anniversary show tomorrow night at the Sheldon.

Prior to forming in late 1983, lead singer Mark Condellire, bassist Pete Sikich and keyboardist Jeff Schneider comprised half of the Felons, a ska/soul/reggae band popular in the early 80's. After that band's breakup, this trio formed the nucleus of what has become one of our city's longest running acts.

"Our original lineup included a sax player and two completely different guitarists," Schneider said in a recent interview. "We've had a few changes, but certainly the core of the group has stayed the same."

Murder City Players (MCP) is extremely talented; besides playing their own shows they've even performed with some of reggae's legends. "In 1986," said Schneider, "we backed up the Itals at Mississippi Nights. We've also backed up U-Roy and the Ethiopian [Leanord Dillon] twice. Some of the groups we've opened for - you name it - Jimmy Cliff, Steel Pulse, Black Uhuru, UB40, the Gladiators, Burning Spear, Ras Michael, Dennis Brown and the Mighty Diamonds."

Besides their impressive performing credentials, MCP have spent considerable time in the studio, resulting in three releases.

According to Schneider, MCP's first record "was 'Big City Life,' a 12" EP on Blueberry Hill Records, in 1988. The next year we put out a cassette, 'Enter The Musical Arena,' and on that particular release we flew in Mervyn Williams to mix it - he's the sound engineer for Burning Spear - and then 'Power Struggle,' our current release, came out late in '92. That project was totally handled by Mervyn. He produced and engineered it.

"The important thing about 'Power Struggle,' aside from being on Nighthawk Records - which is an honor in itself - is that we're now being distributed nationally and somewhat internationally. We've gotten some feedback from radio stations across the country. This one playlist in Ithaca, N.Y. had us at #1 last September, right above Burning Spear. That was pretty cool."

Like fine wine, MCP have improved with age, even appearing on an early 90's release, 'Reggae U.S.A.,' on the ROIR label. Schneider proudly pointed out this cassette-only compilation was "based on a talent search for the best North American reggae bands. Out of 140 groups who submitted tapes, we were one of only 12 who were selected."

With MCP at the top of their game, there's no better time to catch them than during tomorrow night's anniverary show. "We'll have a couple of former members come up and play a song or two," said Schneider. "We'll also be featuring a female vocalist - Desiree - for a couple of songs and hope to even have a guest appearance by Oliver Sain."

Murder City Players have survived the last decade because of the member's mutual love of reggae music. "We mix it up," said Schneider. "We're not limited to any one style or any one period of reggae. I think we've done a pretty good job of covering the various styles, from some of the early ska sounds through some rock steady into the roots sound of the 70's as well as the newer dancehall rhythms. We've lasted 10 years - that's a long time - and who knows what the future will bring. But for now, the spirit's still there and our sound's as strong as ever."






MAIN PAGE

SKANK RECORDS

FREE SKANK SAMPLER

SKANKWEAR

NEW RELEASES

CD REVIEWS

SKANK RADIO

MYSPACE

ARTICLES

POSITIVE VIBES ON KDHX

CONCERT REVIEWS

FAVORITE LINKS

GET IN TOUCH

WHO IS PROFESSOR SKANK?