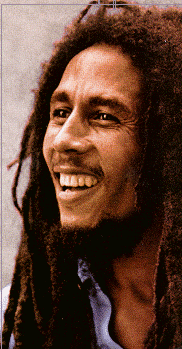 This originally ran in the St. Louis Post Dispatch in 1992.

BOB MARLEY: KING OF REGGAE

Jamaican Superstar Gone But Not Forgotten

By Professor Skank

It's hard to believe, but May 11, 1992 marks eleven years since the passing of reggae legend Bob Marley.

By now, it's assumed that most music fans are somewhat familiar with Marley (be it through his hit song, "Jamming," the fact that he, not Eric Clapton, wrote "I Shot The Sheriff," or that he's Ziggy Marley's father). Whatever the reason, the bottom line is that Bob Marley was a musical genius and his songs are now known the world over.

Marley, Peter Tosh, and Bunny Wailer comprised the reggae supergroup, "The Wailers." Formed in the early 60's, this trio ruled the Jamaican music scene. Finally signed to Island Records in 1972, it was their two releases the following year, "Catch A Fire" and "Burnin'," that catapulted reggae into the mainstream of pop music.

Marley was a powerful lyricist who could paint evocative pictures with his songs. One of his best, "Concrete Jungle," with its churning rhythm, soaring guitar, and unique harmonies, was the opening track of "Catch A Fire,"

No sun will shine in my day today
The high yellow moon won't come out to play
I say darkness has covered my light
And has changed my day into night
Where is the love to be found?
Won't someone tell me, 'cos life
Must be somewhere to be found
Instead of "Concrete Jungle"
Where the living is hardest
Man, you've got to do your best

At this point, The Wailers were beginning to make a name for themselves, but due to internal problems they decided to disband. Although they never recorded together again, these two albums are a testament to their greatness.

Each member subsequently released outstanding solo material, though it was "Bob Marley and the Wailers" who blew everyone away. "Natty Dread," in 1974, was Marley's first release with his new harmony singers, the "I-Threes" (wife Rita, Judy Mowatt, and Marcia Griffiths). The result stands as one of the most influential and crucial reggae albums of all time.

Marley was more than just an extremely talented singer-songwriter. He transcended his music. Two days before the "Smile Jamaica" concert prior to his country's 1976 elections, Marley survived an assassination attempt. He went on to play the concert, displaying his gunshot wounds to the enthusiastic crowd, as he opened with "War," his masterpiece based on a speech by Haile Selassie I (believed by Marley's Rastafarian religion to be God),

Until the philosophy which holds
one race superior and another inferior
is finally and permanently discredited
and abandoned
That until there are no longer
first class and second class citizens
of any nation
Until the color of a man's skin
is of no more significance than
the color of his eyes...
Everywhere is war.

In 1978, the "One Love Peace Concert" was held to promote unity between the opposing political parties. During a chilling rendition of "Jamming," Marley somehow coerced opposition leaders Michael Manley and Edward Seaga to come on stage and then proceeded to raise their bonded hands together in a display of peace and togetherness. It was a landmark accomplishment, and showed both Marley's amazing power and committment.

Marley's live concerts were legendary. The man had a certain charismatic presence that was simply mesmerizing. He was one of the most intense performers ever. His audience would be completely captivated as he would often dance with wild abandon and shake his dreadlocks out of control. He sang from the heart with incredible emotion, and the sincerity showed.

When Southern Rhodesia gained it's independance, Marley was the only "outsider" invited to perform. In front of the newly-liberated thousands, Marley belted out his anthem, "Zimbabwe,"

Every man got a right to decide his own destiny
and in this judgement there is no partiality
so arm in arm, with arms
We'll fight this little struggle
'cause that's the only way
we can overcome our little trouble
Brother, you're right...
we gonna fight, we'll have to fight
Fight for our rights...
Divide and rule could only tear us apart
In every man's chest, there beats a heart
So soon we'll find out
Who is the real revolutionaries
And I don't want my people
To be tricked by mercenaries...
Africans liberate Zimbabwe

In 1978, Marley badly damaged his toe playing soccer. Initially, he was unconcerned, concentrating instead on touring and recording. After awhile, he sought medical advice, and it was found to be the early stages of cancer. Amputation of the toe would most likely have solved the problem, yet Marley's ardent religious beliefs forbid it. Two years later, in September of 1980, he collapsed in New York's Central Park. After intensive treatments, Marley finally succumbed to, what ultimately became, brain cancer. He was 36 years old.

At the time of his death, Marley was on the verge of making it big in the States. His last recording, "Uprising," in 1980, found him at the peak of his career, containing such classics as "Coming In From The Cold" and "Redemption Song." For him to have died so senselessly is truly a tragedy, while robbing the world of his future.

Even though he's been gone since 1981, thankfully his songs - the hypnotic, engaging rhythms, and provocative lyrics - will be with us forever. Make sure you give him a listen, because without a doubt, Robert Nesta Marley is the undisputed "King of Reggae," and his legacy will continue to entertain, as well as inspire, generations to come.






MAIN PAGE

SKANK RECORDS

FREE SKANK SAMPLER

SKANKWEAR

NEW RELEASES

CD REVIEWS

SKANK RADIO

MYSPACE

ARTICLES

POSITIVE VIBES ON KDHX

CONCERT REVIEWS

FAVORITE LINKS

GET IN TOUCH

WHO IS PROFESSOR SKANK?