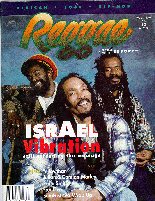 This originally was a cover story for Reggae Report in 1996.

ISRAEL VIBRATION
Still Spreading The Message
By Professor Skank

Some things in life truly get better with age. Case in point is one of Jamaica's premiere vocal groups, Israel Vibration. This trio's debut album, "The Same Song," was released two decades ago and remains one of the most classic Roots Reggae records of all time. Twenty years later, they're at it again, this time releasing another absolute killer, the modern roots tour-de-force entitled "Free To Move."

In between, Israel Vibration has established a discography which rivals that of the greatest groups in the world. "Unconquered People" and "Why You So Craven" were both released before the group moved to America in the early '80s. After some solo recordings by each member - Lacelle Bulgin (Wiss), Albert Craig (Apple) and Cecil Spence (Skelly) - the group was persuaded by Dr. Dread of RAS records to record together again in 1988, and the rest, as they say, is history.

That initial disc, "Strength Of My Life," was followed by five other standout studio recordings, three companion dub releases (with one on the way for "Free To Move"), one live CD and the re-issue of "Why You So Craven." RAS has also recently obtained the rights to the group's first two classic recordings (along with their dub counterpart), thus now - thankfully - making those somewhat hard-to-find discs easily obtainable.

The Vibes, as they are also known, have just completed a successful month-long tour of Europe with the Roots Radics which followed a summer jaunt across the U.S. Before the start of the European tour, I was fortunate enough to hook up with the man they call Skelly, and our telephone conversation encompassed the past, present and future of this outstanding group.

"In the late '50s," Skelly began, "there was a terrible polio outbreak in Jamaica. There were a lot of kids that got it - 3, 4, 4 1/2 years old - that were in the [Mona] Rehabilitation Center. We were all in there, it was like a day care center, ya know? I always loved music and when I was young, about 11 or 12 years of age, I was in a little pick up band in the institution. We didn't have no instruments, we used to have a mop stick bass and a little made up drum kit.

"I also used to represent Jamaica in wheelchair sports, but I was into Rasta, growing my dreadlocks and t'ings, and the authorities didn't like that. So around 1973, when we were about 18 or 19, Israel Vibration came together."

I proceeded to ask him about the group's name, mentioning that I had heard that Apple was the one who had come up with it.

"No, mon," laughed Skelly. "I come up with that name. Here's what happened. Hear me, mon. Wiss, Apple a bredren we called "Scratch" [Vernon Saunders], and I was walking in the polio center. At the time we was thinking about becoming members of the Twelve Tribes of Israel. At about the same time, Bob Marley had out the "Rastaman Vibration" album. So I said I and I let's call ourselves "Israel Vibration Israel Vibrates." Apple said to leave off the last part 'cos it sound too long. Just leave it say "Israel Vibration." So that's how the group got the name. That's how I know it go and if you would ask Wiss, he'd tell you the same t'ing.

"After the first album [in 1976], we came to America for the first time. A guy named Earl Chin had a TV program called "Rootsman Rockers." We performed in Long Island one time at a club called "My Father's Place." I remember a guy named Eppy was the promoter. We only played the one time, then we left back to Jamaica. The second time we come to America was after the second record ["Unconquered People" in 1980]."

We went on to discuss that record, which was recorded at Bob Marley's Tuff Gong Studio and which featured the musicianship of the Wailers.

"Yeah, that was a special time," said Skelly. "Bob always give I and I good vibes, ya know. First time Bob hear I and I sing and perform I hear from some bredren who was there that he was really excited. He saw us perform when we were a member of the Twelve Tribes, we did a show up in the University Commons. That was the first time, in the mid-70s at the student union. Tommy Cowan was our producer then, he helped I and I get a deal with EMI in England and hooked us up with Tuff Gong. So we got to record that record using most of the Wailers as well as some other musicians. It was real nice, mon."

In 1983, the members of Israel Vibration packed their bags and moved to America. "Yeah, in February we all moved to Manhattan," Skelly recalled. "There's a large number of West Indians there, so it's not hard finding Ital food and all, ya know? We did some individual work at that time. I put out a few singles, one was "Go On And Cry" on the World Enterprise Label, about 1984. I also did some singles for Jah Life. He had some Bob Marley riddims and I did "Natural Mystic" and "Crazy Baldhead."

"Wiss had some shows in New York, Apple did a couple of shows in New Jersey and I did shows in Cleveland, Ohio, Cinncinatti and the Wild Hare Club in Chicago under the name "Skelly Vibes." Ya know, Apple gave me my nickname. On the first album I was called Skeleton, 'cos I find myself always being a small person, you know, what you call skinny. So they call I "Skeleton" and Apple then shortened it to "Skelly." I always love to perform, too. The Vibes are BIG in Europe, ya know. EMI did our first album in Europe, promoted it and t'ings, so we've always been real popular over there. We have a European tour in October and we're really looking forward to it. We play some nice places there, like 15 shows in France, then to Holland, Germany, Switzerland, Austria and London. We're then supposed to go to Jamaica for some benefit concert, but I'm not sure if it's been confirmed yet.

THERE ARE PLACES TO GO AND FACES TO SEE
I'M A SOJOURNER, SENT ON THIS JOURNEY
ROAMING OPEN COUNTRY, I'M A TRAVELLING MAN.
THE CULTURE AND THE SPEAR, MYSTIC REVEALERS
AND BUNNY YOU SEE
THE VIBES AND THE RADICS, SUPER CAT WAS THERE WITH WE
CARRYING THE MESSAGE OF HIS IMPERIAL MAJESTY.
-"Travelling Man" from "Free To Move"

"Yeah, that track, we were in Paris. We had Bunny, Super Cat and Mystic Revealers. Spreading the message of His Imperial Majesty. Culture and [Burning] Spear weren't at that show, but they did shows on the same tour when we were in Germany."

When you get the chance to see The Vibes in concert, don't miss it. They are one of the most charismatic groups to ever take the stage, always inspirational and captivating as they skank away on their crutches. Each member takes turns at the middle microphone, switching after every song to deliver their righteous message. The same can be said of their studio releases on RAS; except for a slight deviation on "IV", Wiss always sings the opener, followed by Apple then Skelly.

"Ya see, we always say that you get three lead singers in one package with Israel Vibration. This group don't have no leader. Three lead singers come together to do Jah's work. When we inna studio, and this began when we started to work with RAS, we didn't really plan it. We just kept the order of Wiss, Apple and myself. When performing, many times we'll begin with "Strength Of My Life," but sometimes we change it. Last February, we opened with "Thank You Jah" [from "IV"], and when we go to Europe now, we gonna open with "Mighty Negus" from the new album. For the next record, I and I starting to feel, ya know, certain vibes inspirational. I find that when I'm on the road I feel more inspiration for new songs."

Since 1988, the group has toured and recorded exclusively with the Roots Radics and Skelly explained how that evolved.

"When we went to [Washington] D.C. to record the first record, we saw the Radics - they used to work a lot with Gregory Isaacs when he was with RAS. The Radics were just finishing a tour of the U.S. with - I can't remember who it was - but we just decided to kill two birds with one stone, ya know. The Radics just happened to be there in town and we had also worked with them before, when we did a song for Tommy Cowan called "Never Gonna Hurt Me Again."

As 1996 draws to a close, things are really starting to pick up - and deservedly so - for this outstanding group. "Free To Move" entered the BILLBOARD reggae chart at #14 with a bullet, this after their previous release, "On The Rock," was CMJ's #1 record of 1995. "Livity In The Hood" will be the new video single following "Feelin Irie;" they have a video chronicling their first visit to Israel in 1993 called "Reggae In Holyland;" they continue to tour the world spreading their Rastafarian message and there's also an hour-long documentary scheduled for release in early 1997. All this from three Jamaicans who were each afflicted with polio as youths.

"I was three when I got polio," Skelly explained. "ANY disability, not just polio, is a challenge. It's like growing through the years, you automatically get used to it, but it's obviously something that you don't enjoy, being this way. You have people saying all kinds of things, it don't matter what disability you have, you've got to keep on moving. Don't go sitting back and looking for no sympathy or handouts, ya know. Try and help yourself if you can and just keep on trying."

When asked about the current state of Reggae and the future of his group, Skelly closed down our conversation with the following words:

"Israel Vibration is still singing cultural lyrics, ya know. We've always done it, now we're just doing it to the '90s riddims. Everything is changing now back to roots and culture full time, ya know. Full Speed ahead. Buju a sing culture, Shabba a sing culture, everybody a start singing culture again.

"Ya know, no man knows his future, you must leave that to His Imperial Majesty, King Selassie I, but I'd still like to see great t'ings. Keep touring the world with His Majesty's message, and I do think it's working in America. It's taking time to grow in America, but I can see it happening. That decision is in the hands of Jah, though, 'cos, ya see, HIM the only one that know all man future."






MAIN PAGE

SKANK RECORDS

FREE SKANK SAMPLER

SKANKWEAR

NEW RELEASES

CD REVIEWS

SKANK RADIO

MYSPACE

ARTICLES

POSITIVE VIBES ON KDHX

CONCERT REVIEWS

FAVORITE LINKS

GET IN TOUCH

WHO IS PROFESSOR SKANK?