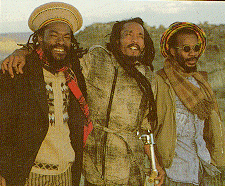 This originally ran in the Riverfront Times in 1996.

ISRAEL VIBRATION
Modern Roots With A Message

Israel Vibration, one of reggae music's greatest vocal groups, triumphantly makes its return to St. Louis for a performance this Sunday night at Mississippi Nights. Although the concert takes place only seven days after the "Reggae Sunsplash," it still promises to be, without a doubt, the show of the year.

The reason is that this is one of the most unique, powerful and captivating groups you'll ever witness on stage. Performing on crutches (each member of the group was stricken with polio as a youth), the three take turns singing their songs of hope and inspiration, all the time backed by the outstanding roots reggae of the incomparable Roots Radics.

The trio, Lacelle Bulgin, Albert Craig and Cecil Spence, met in the Mona Rehabilitation Center in Kingston, Jamaica. This friendship led to the formation of one of the most critically-acclaimed groups to ever come from the island, and ultimately to some of the most memorable reggae music to ever be recorded.

In a recent telephone interview prior to their current tour, Albert Craig - better known as Apple - discussed the group's history, philosophy, upcoming show and even his nickname.

"Yeah, Professor," Apple began in his Jamaican accent, "me parents have 10 children and I was the youngest and also the "apple" of me father's eye, ya know? So they call me Apple. I was a normal little kid, running around and things, but when me get 3 1/2, me get polio. So I moved into Kingston from the parish of Clarendon. Moved into the institution. That's where I met "Wiss" [Lacelle Bulgin] and "Skelly" [Cecil Spence]."

After some discussion of the group's history, their first single, "Why Worry" in 1977, and their debut album the following year, Apple quickly interjected.

"No, no, no, mon. Them not the right dates. Every time we talk to people, people write different things. Let me tell you the truth. We start singing, like together, from 1973, but not professionally. 1974 is when we did our first performance. It was right next door to the Rehabilitation Center, at the Theological college, just the three of us and me playing the piano.

"Soon we hook up with a bredren named Hugh Booth from the Twelve Tribes of Israel and he put out our first single. "Why Worry" was a big hit and that success link us up with [producer] Tommy Cowan.

"We then do the "Same Song" album in '75 and it was released in '76. After that, we put out two 45's from it: "Lift Up Your Conscience" and the title track. We then did a disco 45 named "Crisis" and the last 45 we did was "Never Gonna Hurt Me Again." That was 1980 and was our last song using Tommy Cowan.

"That same year we went to Bob Marley's studio, Tuff Gong. We were one of the first artists there, along with the Melody Makers and Nadine Sutherland, and we recorded "Unconquered People" using the Wailers band. That was an incredible experience, 'cause Bob was right upstairs when we were doing it and he really enjoyed it. Ya know, we were one of his favorite groups, mon.

"We then recorded "Why You So Craven." It was our third album and we did it for [producer] Junjo [Lawes], but it never went out through him, it was Dynamic [Sounds] who put it out. That was around '81 or so and after that we all moved to America, to Manhattan.

"When we come to the U.S., the group was struggling so we kind of branch off and do some singles. It's not that the group separate, we were still together, among each other every day, but we were just trying to catch a little individual thing here and there, just for survival purposes. "Wiss" did an album called 'Mr. Sunshine,' Skelly put out a 45 and I put out three. One is 'Blue Jeans,' one is 'Be Mine' and one is 'Rock On.'"

This early '80s period found reggae in a state of confusion following the passing of Bob Marley. Finally, in 1988, Ras Records founder Dr. Dread was the catalyst to once again have the group record together.

"I had Dr. Dread's phone number," said Apple, "from when I meet him years ago at Tuff Gong. I always kept in touch with him. After some talks I drive all the way to Washington [D.C.] from New York and have him listen to my tapes. He liked them, but him said what him really want was Israel Vibration together, not just Apple, but Israel Vibration because it's such a powerful group in the world with such a strong name.

"I drove back to New York, talked to Wiss and Skelly, and then Dr. Dread flew us to Washington. We started to work on our first album ["Strength Of My Life" in 1988] and now look at us, eight years later, mon. We just finished our new one, called "Free To Move," and I really think the people gonna love it."

By the time this prints, Israel Vibration will have just begun their latest U.S. tour after having played shows in Puerto Rico and St. Croix. One of the genre's greatest backing bands, the Roots Radics, will once again be on hand.

"The Roots Radics are really hot," said Apple. "We livicated the last album ["On The Rock"] to Bingy Bunny [the legendary rhythm guitarist who died of Cancer in 1993]. Right now the band still has "Flabba" [Holt] on bass, Dwight [Pinkney] on lead guitar and "T-Bird" Johnson on Keyboards. Steve [Golding], he used to play for Peter Tosh, he's the new guitarist and Carl [Ayton], who used to play for Bunny Wailer, is our new drummer" [replacing Style Scott]. These are musicians with a whole heap of experience and believe me when I tell you they'll be sounding great."

Those witnessing this vocal group for the first time will realize that they truly are a "group," as each of these extremely accomplished writers and vocalists unselfishly take turns singing their songs, shuffling the line-up so the lead vocalist at the time is in the center, between the other two.

"We're like three lead singers who come together and form a group," explained Apple. "When we started out we tell one another that none of us in this group is the leader, Jah is the leader. We three are leaders, but Jah is the highest leader, understand?"

When the group takes the stage - Apple with his cane, Wiss and Skelly with their crutches - it's truly a sight to behold. Passion and inspiration rule their performances.

"We try to unite people together" continued Apple. "The message is that we have to come together, to recognize that there is but one creator who created all of us, not to make us different from each other but to make us beautiful TOGETHER. Sure, each and every person has problems, but you must overcome.

"I used to question myself, and God, too, why this happen to me, ya know, and I was confused for awhile. You find that people treat you differently. Some people curse you in an argument and call you "cripple." It prevent you from getting a certain kind of job, it take a lot from you to be real with you. It take a lot from me outta life, but at the same time it give me much more in life, understand?

"Ya see, my songs have a spiritual vibe, coming from the soul. Them are real things, real situations. The cries that all human beings have in their life. My songwriting and singing are gifts from Jah."

As we wound down our hour-long conversation, Apple had some interesting parting words.

"When I was 16, my mother -she was a spiritual healer- I asked her to read me up and tell me what she seen for my life. She said one day that I'm gonna be a great leader in the world and millions of people shall follow behind me. She also told me that out of all of her children I was the only one born with this thin layering of covering over my face. Ya see, all them prophets, them born like that. When the Doctor peeled it off my face she said I didn't look like a baby, I look like an ancient man, like I was here thousands and thousands of years ago. I never forget these words, mon. Never.

"And she also told me that God give that foot to me for a reason, not for a bad reason, because I did nothing bad to have that foot. It's for a good purpose, why God give me that foot, because I have a special work to do in my life."

Make sure you check out that "special work" for yourself this Sunday night. It will be an evening that's guaranteed to blow you away.






MAIN PAGE

SKANK RECORDS

FREE SKANK SAMPLER

SKANKWEAR

NEW RELEASES

CD REVIEWS

SKANK RADIO

MYSPACE

ARTICLES

POSITIVE VIBES ON KDHX

CONCERT REVIEWS

FAVORITE LINKS

GET IN TOUCH

WHO IS PROFESSOR SKANK?