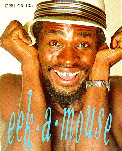 This originally ran in the St. Louis Post Dispatch in 1993.

Eek-A-Mouse has been at the forefront of the Jamaican music scene ever since his 1981 breakthrough hit, "Wa Do Dem." Hailing from the "trenchtown" area of Kingston, this tall, lanky singer is one of his country's most creative, talented and humorous performers. Although it's been almost one year since he last brought his unique style to town, tonight at the Links Club the "Mouse" is back!

In a recent phone interview before leaving for a show in Canada, Eek-A-Mouse (born Ripton Hylton) rambled on as only he can, discussing things in his almost indecipherable patois.

"Been tourin' a lot, mon - played in Europe for awhile and now I'm back in the States. Back to conquer. Been goin' from coast to coast, people linin' up to see the 'Mouse.' Ya know, EVERYONE wants to see the 'Mouse,' heh, heh, heh."

Anyone who has seen this eccentric performer in concert knows that he's one of the most charismatic singers around. He continually involves the crowd while gracefully moving about the stage. Even though this prankster is hilarious, he's still a true professional, always singing top-notch reggae ("and the band, ya know, they're some of the meanest guys around. Play some wicked reggae, mon.")

"Mouse" is the originator of the "sing-jay" style of reggae (singing and dee-jaying) and he also does some outrageous things with his voice - things that words cannot even begin to describe.

"Eek-A-Mouse plays a unique style, ya know? Vocal sounds - a different kind of sound. Real unique voice, ya know? I'm the mon that does the 'bom bom bidlly bong biddly bong bom.'

"Can't wait to play your town, mon. I love the fans. All those Micky and Minnie Mouses out there, they love the "Mouse," too.

"I want all the people in St. Louie to come see me 'cos I'm the tallest Mouse in the world at 6 feet 6 inches, mon. I'm gonna squeak all night. Ha ha ha..."

The "Mouse" is undoubtedly quite a character, yet is an even better performer. Get ready to hear some of his classics ("I'll be playing "Ganja Smuggling," "Assassinator," "Get Away," and some new stuff like "Dip 'im" [his new single]).

Whatever the song selection, make sure you don't miss this bona fide reggae star in concert. Eek-A-Mouse will most surely put on a performance that won't soon be forgotten.






MAIN PAGE

SKANK RECORDS

FREE SKANK SAMPLER

SKANKWEAR

NEW RELEASES

CD REVIEWS

SKANK RADIO

MYSPACE

ARTICLES

POSITIVE VIBES ON KDHX

CONCERT REVIEWS

FAVORITE LINKS

GET IN TOUCH

WHO IS PROFESSOR SKANK?