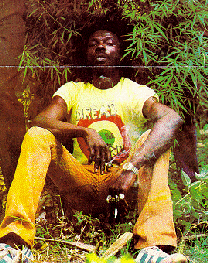 This originally ran in the St. Louis Post Dispatch in 1994.

Culture, one of reggae music's most admired and respected vocal trios, returns to town for a performance Tuesday night at Mississippi Nights.

In a brief conversation prior to a recent show in San Francisco, lead singer/songwriter Joseph Hill discussed, among other things, the current tour.

"Things are going very, very nicely," explained Hill. "It's going to be a nine week extensive tour and we've been on the road for about a month now.

"The people in America continue to be receptive and one thing I have noticed, in particular, is that the consciousness continues to rise. People who have been in possession of this have always realized it, and we do our best to help spread it."

Hill formed Culture in 1976 and the group's debut the following year, the prophetic "Two Sevens Clash," remains as one of the greatest reggae albums ever made.

"That record I've never stopped loving," Hill reminisced. "Myself, [harmony singers] Albert [Walker] and Kenneth [Dayes] made that during an intense period in reggae music and it's still in much demand today."

Original member Dayes just recently left the group and has been replaced be Reginald Taylor. Dub Mystic has been slated to be the backing band and reggae great Pablo Moses is scheduled to open the show.

"Dub Mystic, they're a great band put together; I would never explain where they are from because that's not important, as long as they can do the work. And Pablo Moses, that's a surprise 'cause we're not touring together but that would be irie. That would make for a tremendous show.






MAIN PAGE

SKANK RECORDS

FREE SKANK SAMPLER

SKANKWEAR

NEW RELEASES

CD REVIEWS

SKANK RADIO

MYSPACE

ARTICLES

POSITIVE VIBES ON KDHX

CONCERT REVIEWS

FAVORITE LINKS

GET IN TOUCH

WHO IS PROFESSOR SKANK?