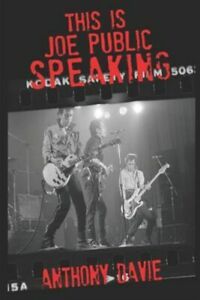 The Clash
How they turned me into Professor Skank

(This is what I wrote which was included in this book)



The Clash was, and continues to be, a major influence on my life.

Before discovering "the only band that matters," I was a big Who fan. I saw The Who when I was only 12 years old on the "Quadrophenia" tour in 1973. Lynyrd Skynyrd opened and it was the first concert I ever attended. I still don't know how my parents let me go, but thankfully they did.

I loved The Who all the way through high school. They were always my favorite band. My friends and I were stuck in the past, though, as we lived in the Midwest and simply didn't know any better. Who, Stones, Zeppelin - among others - is what we listened to. And believe me, we listened at full volume. We loved Dust but didn't realize their drummer would go on to play with Richard Hell and then the Ramones. If we did, we for sure would have gotten into Punk much earlier, but as it was, the early years of the punk revolution sadly passed us by.

I used to subscribe to Creem magazine and remember seeing articles on the punk bands but never acting on any of them. There was also tons of negative publicity, which I'm sure influenced me tremendously. But in March of 1979 I finally decided to go to a local record store and check out the band they were raving about and whose live shows were incredible - The Clash. That was before social media, of course, and I remember seeing a picture where Jonesy was in mid-flight like Pete Townshend and I was very intrigued. I also thought the name was extremely cool. The Clash.

So I went to the store and as luck would have it a huge Clash fan, Jim Roehm, worked there. We hit it off and I went home with the import of "The Clash."

Man, it was so raw and so unlike anything I had ever heard. I was just blown away. It was angry and rocking and catchy - I played it non-stop and just fell in love with it. Not sure if I bought "Give 'Em Enough Rope" at the same time or a few weeks later. I loved that one, too. Lots of critics didn't, I know, because of the polished sound, but the songs were all fantastic - and powerful. Roehm then got me the lyrics to the debut (I had spent countless hours trying to decipher them). I also purchased all of their singles and by the time the "Cost of Living EP" came out a couple of months later, I was all caught up and was the biggest Clash fan around. I also started getting into the Pistols, Buzzcocks, Ramones, Wire, and others - everything I had missed the previous couple of years.

In the fall of '79 I was away at college when Roehm called and told me The Clash would be in Chicago on their "Take The Fifth" tour. I was 18 years old and more than ready. There was no way I was going to miss this. I drove 420 miles with four buddies and was psyched beyond words. It was a Friday, September 14, 1979. We got in town around noon and after checking into our hotel I remember we drove by the venue, the Aragon Ballroom, and to our dismay saw a line already forming! So we hopped out, got in line and waited for close to seven hours.

The doors finally opened and we sprinted in and got great seats about 70 feet back or so, directly in the middle. On the bill with them was Bo Diddley and the Undertones as well as DJ Barry Myers. I remember the support bands were cool, but I was there for The Clash. Around 10:30 pm a giant backdrop of assorted Nation's flags dropped behind the band and brought them so much closer. We all then stood up on our chairs. The atmosphere was absolutely perfect and charged with electricity. Jonesy started things off by saying "this is Chicago, 'ome of the Blues, right?" He then played a slow, bluesy riff (I later realized it was "Jimmy Jazz" which had yet to be released). Joe sauntered across the front of the stage with just an awesome presence. I remember his feet were together and he shuffled slowly across the stage; toes to the left then heels to the left, toes then heels, toes then heels, etc.

I will never forget what happened next - as the song wound down, bright lights hit and all of a sudden a big cacophony of sound exploded and they went right into "USA" and it was insanity. Jonesy was all over the place, Paul was so cool, and Strummer - you couldn't take your eyes off of him. He was just so intense. They played for about 75 minutes, I knew all the songs (except the few from the soon-to-be released "London Calling") and the band exceeded any and all expectations. It was the greatest show I ever saw in my life.

It's funny, too, how I remember certain things, all these years later. During "English Civil War," Joe didn't always sing "marching right over our heads," but instead just looked up in a possessed kind of way when it was time to sing those lyrics. And during "Jail Guitar Doors," Jonesy didn't drop the F-bomb after the verse about Keith and the Stones.

A few months later Roehm somehow got me a cassette of the show. Apparently it was recorded for the King Biscuit Flour Hour. Even though it omitted a couple of songs I was still knocked out. And to fill up the end of the tape, someone (I still don't know who) added some reggae tunes. Two tracks from Linton Kwesi Johnson as well as one each from Leroy Smart, Big Youth and Tapper Zukie. I still was rockin the punk bands but I started getting into this cool reggae sound that The Clash (and especially Paul Simonon) loved so much. I also purchased the original versions of "Police & Thieves" and "Pressure Drop" and slowly started to get into the world of reggae.

Roehm then told me The Clash would be in Detroit the following March so it was road trip time again. We stopped in Chicago on the way and saw The Jam play twice. They were fantastic. We then went to Detroit and I think we went to a place called Bamboo Records and somehow Roehm got the band's itinerary. We met them at the airport as they came off the plane. I'll never forget it. The Clash. Right there. Wow.

They played at a roller rink that evening with Mikey Dread and Lee Dorsey. It was the final gig of the tour, a benefit for Jackie Wilson. It was really crowded (I was pressed up against the stage and could barely move) so it wasn't the same incredible vibe as the Chicago show, but it was still awesome. And afterwards we partied at their hotel with them and their entourage until 6 am. It was an unforgettable time.

My memory is hazy after all these years but when "Sandinista" came out I wasn't sure about them performing it live, but then I saw them play "Magnificent Seven" on the "Tomorrow Show" with Tom Snyder and at that moment I knew I had to go see them again. I didn't have any tickets but it's when they added all the shows at Bonds in New York. So I took a chance and hopped on a plane. Luckily, Joe got me in every night. I can't remember how. Or maybe I talked to Kosmo. Regardless, it was seven nights in a row, with a matinee on Saturday. Two shows on the same day! It was insane. But I had youth on my side. I remember seeing Billy Idol in the dressing room one night, too.

After that experience, my brother and I saw them in Austin and Dallas the next year, and partied with them after the shows again. (I went to school in Austin because on the back of the "London Calling" album there was a pic of them playing at the Armadillo World Headquarters in Austin. Seriously, that's why I chose the school!). I went out to dinner with Jonesy after interviewing him in Austin one day. We went to some Deli and listened to some reggae I had in my car. I was also there during the filming of the "Casbah" video. Great memories.

The next year some friends and I drove to Chicago and saw them at the Aragon Ballroom again. They were still great but nothing ever equaled the first time I witnessed them. Then in 1984, I finally saw them in my hometown of St. Louis, but it was after Jonesy left and it wasn't nearly the same.

Like I wrote at the outset, The Clash has been a major influence on my life. In fact, they changed my life. Like many others I bought an instrument (a bass guitar) and started a band. I turned all my friends on to them and one is still a lead singer all of these years later, in Burlington, VT, of a great punk band called "Blowtorch."

Because of The Clash I got into reggae and by the time they officially disbanded I was totally immersed in the crooked beat. I decided to follow that route and have never looked back.

I'm a reggae DJ on KDHX since 1992 (the show is called "Positive Vibrations" and I'm on every other Saturday night from 9-11 pm CST). I've promoted shows since the following year (1993) and I also have a record label I started in 2003, Skank Records, through which I've released ten of the best reggae cds you'll ever hear. And to think it all started because of my love of The Clash. They turned me from Jeff Frelich into Professor Skank. Thank you, fellas.






MAIN PAGE

SKANK RECORDS

FREE SKANK SAMPLER

SKANKWEAR

NEW RELEASES

CD REVIEWS

SKANK RADIO

ARTICLES

POSITIVE VIBES ON KDHX

CONCERT REVIEWS

FAVORITE LINKS

GET IN TOUCH

WHO IS PROFESSOR SKANK?