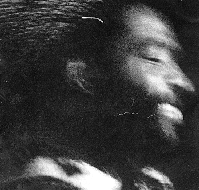 On the heels of Apple Gabriel's upcoming release on Ras Records, I was fortunate enough to have a brief phone interview with this legendary vocalist. In our few minutes of conversation, among other things we touched on his upcoming disc and tour, and his break-up with Israel Vibration.

We began by discussing the soon-to-be-released CD. "Yeah, it's gonna be a great sounding record," said Apple. "On the two songs you already have ["Another Moses" and "Be As One" - both killers - were released on a CD single] I wrote and arranged them and played everything on them; the bass, the horns, keyboards, horn overdubs, all the vocals including the harmony. Yeah, mon, everything. The record also has Flabba Holt on bass and Tee Bird on keyboards, from the Roots Radics. The other musicians beside Flabba and Tee Bird are John Screw on drum extra's, Tuff Lion on rhythm guitar, Peter Williamson and Garfield Wray on keyboards, Duane Hoilett on Guitar and Billy Johnson on guitar as well.

"My band's name is the Zionites. We also have two female background vocalists, Tia & Aziza, and both have backed name-brand entertainers. The Zionites is a very professinal package and above all the vibes amongst each other are smooth. Concerning the tour, right now it is in the early stages of being put together. Nothing confirmed yet, but we're looking to tour all over, mon. Spread the message through Europe all the way to America. My manager, and tell everyone I have the best manager in the world! [Lisa Marie Edwards], when the album come out on the street she'll make sure everything will come together."

I then asked him if he'd be willing to discuss the break up.

"To tell ya the truth, Professor Skank, I really don't wanna talk about that right now, y'understand me? A lot of people keep coming to me wanting to really get into it. But it's like I don't really wanna get into that right now. Right now, I'm just all about the music. And if people listen to the music, then they'll eventually know everything that they want to know. Because the music is what I use to talk to the people. So in the music, the people will find all their answers to all their questions. As far as getting in a conversation with it, and debating it and stuff, I don't really wanna get into that. It's bad things why the group mash up, which most likely everybody knows that, bad things mash up group. It's not good things mash up group. The time to talk about it, I'm not ready yet. The time will come, yes, when I talk about it internationally. But I'm not into the vibes right now or anytime soon to really get in this conversation of why Israel Vibration mash up."

In response to my question if it's a problem that Wiss and Skelly are using the Israel Vibration name, Apple continued. "Yeah, mon, that's a big problem. That's why I don't wanna talk about anything yet. Ya know, two people don't own that name. Three people own that name. They don't have no right going around using the name Israel Vibration when it's Apple, Wiss and Skelly who is Israel Vibration. See, I go out there and use my name. I could use Israel Vibration, too, 'cause I own the name, I create the name. But I don't want no problem with the people and the confusion it brings. But we'll deal with that down the line and straighten out things, 'cause they don't own the name. The two of them alone is not Israel Vibration. They're supposed to go out there as "Wiss and Skelly, members of Israel Vibration." Just like I have on my record, "Apple Gabriel, original member of Israel Vibration."

I then asked Apple if there was any chance the group would reform in the future (since they did have a six-year hiatus in the '80s).

"No, no, no, this group is history. Like the Wailers and all the rest, is history when they break up, this is history, too. It will never happen. 100% it will never happen again, mon."

Sad news, for sure. I ended our brief talk by asking him what he'd like to tell all of his fans.

"I wanna tell the people, ya know, craven choke puppy dog. Don't be greedy. Love and respect each other. Love and respect the most high. Always be good to your Brother and Sister. Don't covet your brother. Don't blaspheme aginst your brother. Just do the right thing as the Father said. Love your brother and sister the way you love yourself. Serve no other God but the one true and living God who create the whole creation. That for me is what it's all about. Love and respect for all people, y'understand?

"That's what me is all about, peace and love for the whole world, mon. Me love and respect ALL people. Black people, white people, Chinese people, Indian people, red, yellow, blue, pink people. Me love and respect ALL people. And me can't wait to come inna your area and meet the people. Yes, mon, Apple Gabriel and the Zionites are looking forward to meeting everyone throughout the world and spreading our message of peace and love."




For more info on Apple and to listen to "Be As One"... APPLE.






MAIN PAGE

SKANK RECORDS

FREE SKANK SAMPLER

SKANKWEAR

NEW RELEASES

CD REVIEWS

SKANK RADIO

MYSPACE

ARTICLES

POSITIVE VIBES ON KDHX

CONCERT REVIEWS

FAVORITE LINKS

GET IN TOUCH

WHO IS PROFESSOR SKANK?